Breakfast is the most important meal of the day and for those who's strapped for time, brunch is the way to go! Also, packing your meals in mason jars makes it more eco-friendly and convenient for travelling! Plus, it looks prettier too! Hopefully after trying out theses recipes, you'll be able to customize your ingredients and create something to call your own.
Here are some tips on arranging your ingredients from The Country Chic Cottage: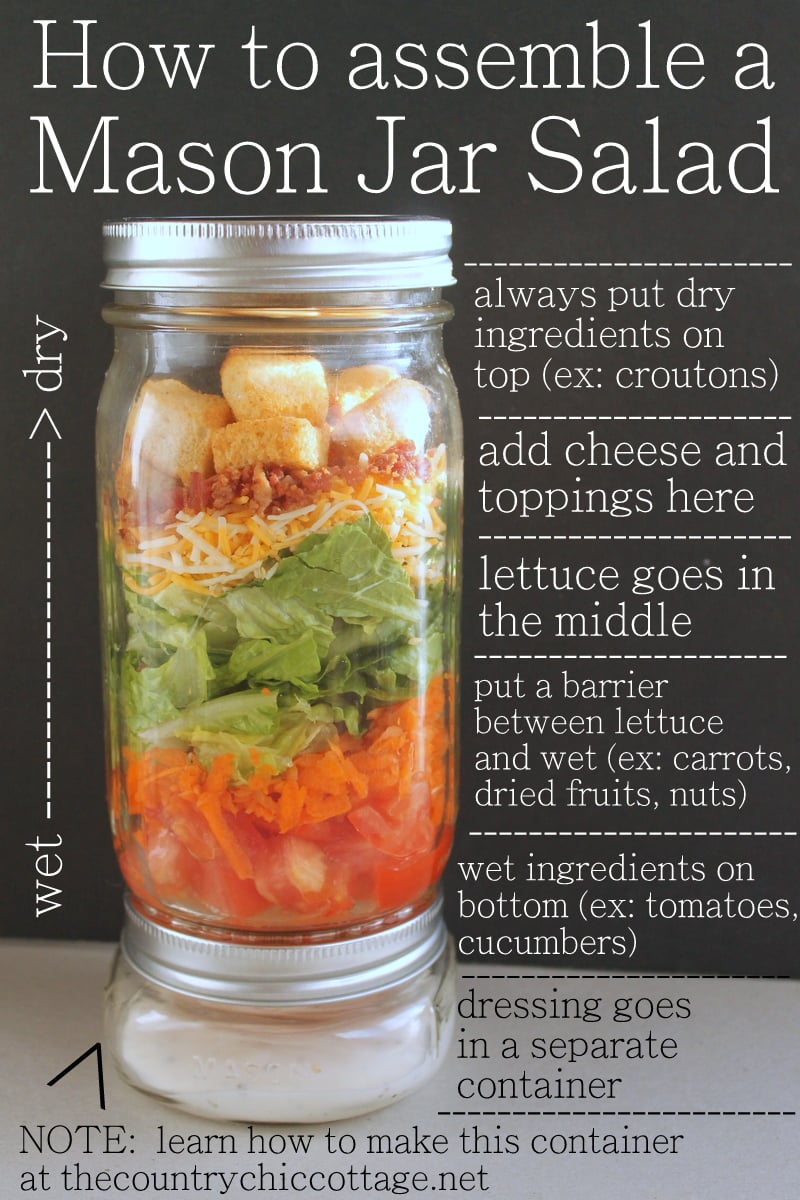 Remember to put the wet ingredients at the bottom first, such as the sauce or dressing, then put the dry ingredients on top, like crispy noodles or croutons! This way you will be able to avoid the dry ingredients from becoming soggy before you even get the chance to dig in.
Without further ado, dig in to these 20 yummy and healthy mason jar recipes!
1. Asian Noodle Salad
Call them soba or buckwheat noodles, both are made from buckwheat flour, which helps to regulate your blood pressure, sugar levels and cholesterol [1] if eaten regularly. Also, you can make this recipe in advance because it can be kept in the fridge for 5 days! Recipe here.
2. Asian Zoodle Salad
Use a spiralizer or cut your zucchini into thin long strips to get zoodles! A great alternative to noodles when you are watching your calorie intake and looking for a new way to boost your fiber dose for the day [2]! The mandarin oranges will make this salad more refreshing which is great for a hot day! Recipe here.
3. Pomegranate and Pear Salad
If you are still getting used to greens, why not try this fruity combo? If you can't get sherry vinegar, you can replace it with apple cider vinegar which has many awesome health benefits as well! Recipe here.
4. Deconstructed Sushi
Yes, you can have sushi in a jar! Just use brown rice to substitute sushi rice and you can change the avocado to your favourite sushi toppings such as egg rolls or crabsticks. Recipe here.
5. Blueberry and Grilled Peach Quinoa Parfait
Dessert for brunch is not illegal so treat yourself to this sweet but filling parfait! The sweetness of the grilled peach and blueberries go well with the nuttiness of the quinoa. Recipe here.
6. Almost Instant Noodle Soup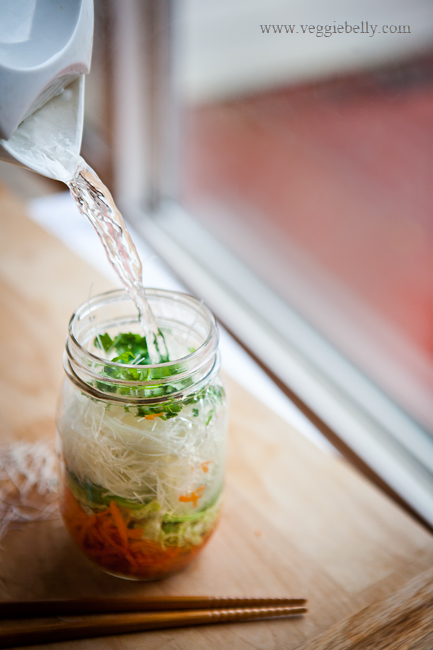 Satisfy your instant noodles cravings with this healthy alternative! Use vermicelli or par-cooked cha soba noodles, and vegetables that will easily cook with hot water.  Recipe here.
7. Granola Breakfast
Berries are rich in antioxidants and with the addition of granola, this quick to make breakfast will give you a good head start to your day! Tip: Get frozen berries, they contain more nutrients and have a longer shelf-life than the fresh ones. Recipe here.
8. Coconut Quinoa and A Cherry Compote with Toasted Almonds
Who knew that coconut and cherry will make a great combo? This rich but healthy brunch will definitely fill you up until dinner! Recipe here.
9. Bacon and Eggs
Ah, yes! Nothing says all-day breakfast more than this! All you need to do is mix it all up then cook it in the microwave then, dig in! We suggest to put more greens to balance it out. Recipe here.
10. BLT Salad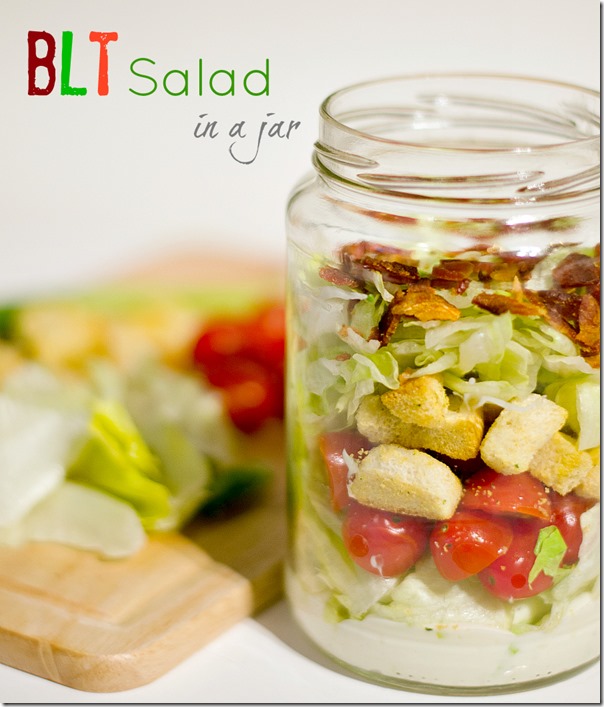 Have your BLT sandwich in healthy salad style that's Weight Watchers approved! Substitute the mayonnaise with fat-free yogurt if you want to watch your calories. Recipe here.
11. Superfood Burrito
Black beans are not only rich in fiber and protein. It also aids in slowing digestion, making you feel full longer. Recipe here.
12. Caprese Salad
Arugula, basil leaves, tomato and bocconcini (mozzarella cheese balls) make up this simple but satisfying salad. It'll make a great side dish too! Recipe here.
13. Cobb Salad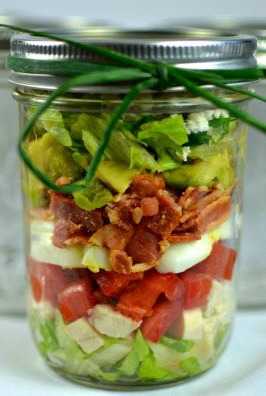 To avoid the avocados from turning brown, remember to toss them in lemon juice before putting them into the mason jars. The lemon will also give the recipe a bit of a zing! Recipe here.
14. Skinny Burrito
You can either eat this straight from the jar or pour onto a whole wheat tortilla wrap. This healthy Mexican inspired jar can be kept in the fridge for 2 days so if you have extras you can share it with your loved ones. Recipe here.
15. Fresh Corn, Edamame and Radish Salad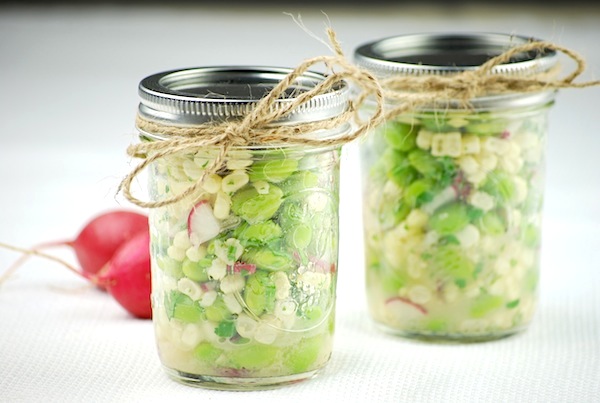 If you love edamame then you'll enjoy this salad! Did you know that edamame is rich is protein, iron and calcium [3]? Recipe here.
16. Apple Quinoa Parfait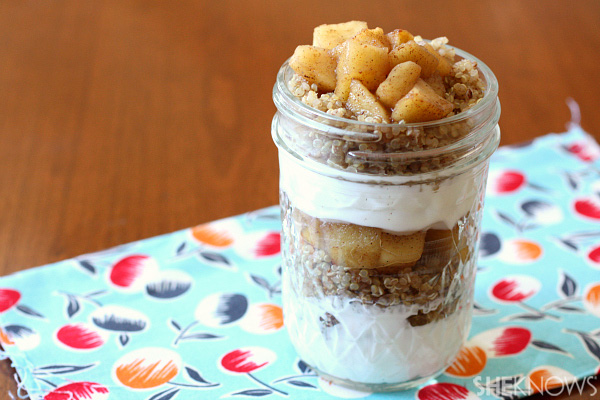 Taste like apple pie but you'll feel less guilty after having this for brunch instead of the real apple pie slice! Recipe here.
17. Whole Foods Inspired Layered Salad with Orange Ginger Dressing
We don't have Whole Foods here but we can make this salad inspired by the one that's sold over there! You can omit the Wheatberry if you can't find it here because it's already one wholesome meal. Recipe here.
18. Shrimp & Feta Cobb Salad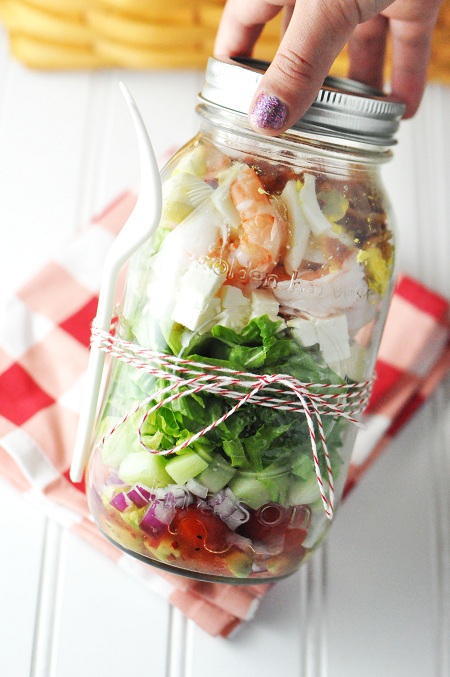 You're getting all the vitamins that you need from the shrimps, avocado, tomato, cucumber, egg, feta cheese and more in this salad! A fulfilling meal we say! Recipe here.
19. Spinach, Blueberry, and Blue Cheese Salad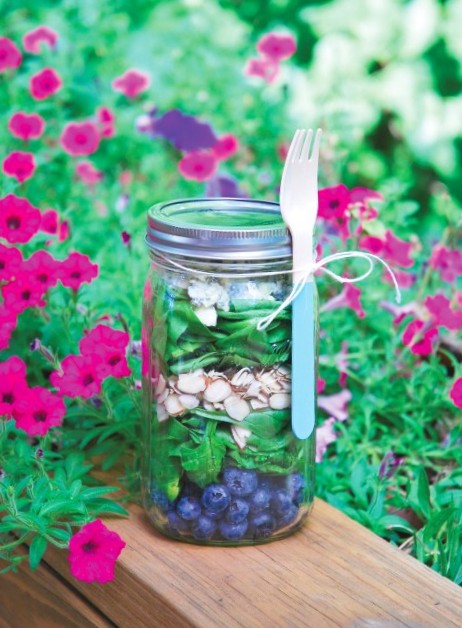 Blue cheese may smell funky but it's one of the most used ingredients for salads, dressings and burgers because of its rich flavour. It's high in calcium and protein too so it gives a good balance of nutrients to your salads [4]! Recipe here.
20. Tofu Living Salad with Sesame-Lemon Dressing
You can substitute the sprout lentils in the recipe with our local superfood taugeh and replace the firm tofu pieces with edamame for a chewier alternative! Recipe here.
_____
Have you tried out any of the recipes here? Share your mason jar pictures with us in the comments below or on our Facebook page!